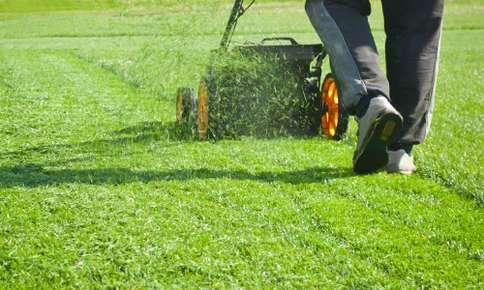 The first year after losing a loved one, you go through a series of firsts. Those firsts seem to come along with amazing regularity. There is the first significant holiday. The first time you pick up the phone to call them. The first birthday and a long series of firsts thereafter. Each one hits in its own significant way. Sometimes those firsts even catch you by surprise.
This spring brought about my first time cutting the grass since my father passed away. This was one of those firsts that caught me by surprise. Lawn work was a sweet pastime that my father and I shared. He was my consultant on all things grass, weeds, moles, spiders, brown spots, and lawn equipment.
Last year my wife and I moved into a new house, and had an issue with spiders. Who am I kidding…It was an all out infestation and I was freakin out! Can you believe that my dad had to give his 32 year old son a pep talk about Spiders. "Grays ain't scared of no spiders son. Yall gone be alright." Dad gave me some tips on how to get rid of the spiders. I got rid of the spiders and called dad to let him know. I was proud and awaiting his affirmation on a job well done. That was our partnership.
This partnership of yard work and taking on the bug kingdom began when I was a 5 year old kid following my dad around our yard. That yard in Whitehaven is where I learned how to work. Its where I got my first paycheck. It's where my family and I built a bond. Each member of our family had a role in the Saturday morning yard work. My dad would mow. My mother would trim bushes. My sister and I would bag excess grass and sweep. Sometimes us kids would even get to use the equipment. I loved using the blower. The loud motor and the power in my hands made me feel strong and trusted. Work builds dignity. Being invited into a task affirms one's humanity and ability to contribute to life. Work moves us from being spectators and reactors, to being actors and initiators in the theatre of life. I believe that this was God's original plan for humanity, first experienced by Adam in the Garden of Eden. He was put to work and this work was an outworking of the dignity imputed to him by his Creator.
Dignifying work began for me in my front yard, working on the lawn with my dad. This spring I cranked the lawn mower for the first time without Terry Gray. He was a legend in the yard. His grass was so green that it looked spray painted.  While venturing out for the first time without my guide, I was caught off guard by memories from my childhood. I had to stop mowing for a moment, because the memory of what me and my dad shared hit me like summer sun. I paused and reflected on those days in our yard in Whitehaven. This was one of those firsts. 
As I continue to navigate this first year of firsts, I am grateful that my father introduced me to the dignity that work brings. Work is a great gift first given to humanity by God himself. Man steps onto the field of life with his Creator and finds a rake. The Father is already at work, but we get invited into the work with Him. What a privilege. My Heavenly Father used my earthly father to draw me into the beauty and dignity of work. I was never truly needed in the yard, but I instead was wanted there. My father knew that the work was good for me, more so than I good for the work.
Today, as I go about my life's work, I am reminded that I am not necessarily needed, but wanted. This is not to assert false humility or deny that God gives us gifts, talents, strengths, and valuable attributes. I am not proposing a worm theology that denounces human worth and value. My point is that our gifts, talents, strengths, and attributes are given kindly and generously by God's grace. Man can innovate new technological advancements and build skyscrapers 100 stories tall, but if God were to say "give me back my breath" we could not generate our own. We are wanted creatures and not needed creatures.
My Heavenly Father draws me into work with Him. For me, that looks like serving as a pastor and writer, but for you it might be something different. Rest in the confidence that your Father loves you and wants you to join Him in specific work planned just for you. You might not get a paycheck for this work. It might be a special craft that you enjoy or a labor of love. As you go into the office, classroom, lab, field, studio, kid's room, or yard embrace the love of the Father inviting you into his work to redeem this world alongside Him. He doesn't call you to this work because he needs you, but because he longs to have a relationship with you in the work. He refines you and builds your character in the work. He makes you more like himself in the work. So take the pressure off. Don't take yourself so seriously. I will try to do the same. We're like a 5 year old kid following his dad around with a rake. The weight of the world is not on our shoulders. We're just there because he wants us there.